Digital giants like Amazon and PayPal, along with the rise of smartphones, have changed consumer expectations forever. Customers may always have to interact with banks in some way, but they now demand greater personalization within a frictionless omnichannel banking experience. Banks are responding with digital transformation powered by API integration and management.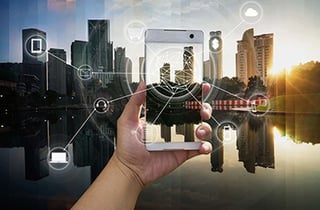 The need for omnichannel banking isn't new. The industry has been pursuing the omnichannel dream for years, trying to stave off competition from FinTech disruptors.
In reality, banking brands have achieved multi-channel experiences as opposed to omnichannel ones. Just about every major bank has a mobile app, physical branches, functional websites, among other channels—they just aren't seamlessly connected. Unfortunately, a recent Celent report, Top Trends in Corporate Banking 2017-2018, found that the lack of omnichannel access to information and services was the second most common reason banks lose business.
Consumers want to be able to take advantage of a mobile self-service portal and pick up where they left off if they have to call a support agent or visit a physical branch. And the benefits go both ways. There's a reason why 89% of banks plan to innovate around omnichannel strategies. According to a Celent survey, improving customer relationships is the most important thing for retail banks, and omnichannel experiences can help achieve that goal.
However, delivering a truly omnichannel banking experience is easier said than done.
There are plenty of nuances involved in omnichannel deployments. However, the following three demands are sparking the need for greater API integration and management if banks want to succeed.
Life would be easier for traditional banking brands if deploying omnichannel took just one initiative. There are many moving pieces in an omnichannel strategy and, as they stand today, most banks aren't equipped to quickly get to market with a truly seamless experience.
There are two main roadblocks standing in the way of faster omnichannel deployments:
Siloed Organizational Structure: Decades of growth have resulted in disparate silos within financial services institutions, all of which are supported by their own disconnected core and legacy systems. At a high level, banks rely on their branches for selling products, call centers for supporting customers, and digital channels for marketing efforts. Having these siloes remain in place will slow innovation to a crawl and make it all but impossible to deliver smooth interactions across channels.
Waterfall Approaches to Product Development: In the past, even 18-month product development project probably felt like a rapid process for the banking industry. There was nothing rushing banks to innovate. Now, competition is far too high to accept even a small margin of error in these waterfall cycles. Omnichannel deployments will ultimately be a learning experience for any bank, meaning quick iteration is essential.
API integration and management will help ease the burden of deployment speed by breaking the barriers of organizational siloes and utilizing agile development cycles to removing waterfall project management. APIs can help banks quickly deploy digital initiatives and connect the disparate channels that make up the omnichannel strategy, without the burden of costly integration layers, manual development, and the expense of months (or even years) developing new features and tools.
2.External Collaboration Unlocks Omnichannel Banking Potential
For years, there's been a clear line in the sand between traditional banks and the FinTech startups that have been disrupting the industry. However, the open banking movement is bringing the two together as decision-makers recognize the strengths and weaknesses of all involved.
You know your own strengths: the large, established customer base; the extensive network of resources; the regulatory expertise; the funding capabilities. But it's clear that quick decision-making and innovative thinking are less common.
In contrast, FinTechs are great at creating innovative products, compelling user experiences, iterating quickly, and maintaining the customer-centric culture that can facilitate omnichannel success. Rather than rushing to overhaul internal operations and culture, banks should seek partnerships with innovative FinTechs to unlock the potential of an omnichannel strategy.
When evaluating potential partnerships,you should:
Ensure the FinTech Complements the Brand: Disruptive FinTechs are popping up everywhere, and they all have an application or platform that specializes in a different aspect of financial services. Find the partner that will fill gaps that stand in the way of your own digital banking strategy.
Understand the Needs of the Partner: Much the same way that you need to become more customer-centric (as opposed to product-centric), it's important to understand that FinTech partnerships are a two-way street. FinTechs will help fill out your omnichannel strategy, but you need to meet their needs as well.
When you've identified the right partner, APIs will be essential to integrating the third-party services and exchanging valuable data. One example is how BBVA Compass is partnering with Dwolla to integrate real-time payment services rather than forcing customers through frustrating checking systems.
With the right partnerships, you'll be able to offer a better omnichannel experience in less time than if you developed everything yourself, while leveraging your core assets and competitive differentiation.
3.Balancing Security with Omnichannel Banking Functionality
Omnichannel banking goes far beyond mobile to include online banking, credit cards, ATMs, customer service lines, bill pay channels, virtual branches, physical branches, and more. Your objective is to give customers seamless access to interact with any of these channels (even if they switch mid-transaction).
But at the same time, banks can't forget that solid security measures must be applied at every turn. It would be nice if there was a one-size-fits-all security solution. However, banks must be prepared to evaluate each channel and its unique security needs.
While mobile may seem like more of an omnichannel security threat than an opportunity, smartphones open banks to much more advanced authentication. For example, Touch ID, digital tokenization, and two-factor authentication via mobile phones can help create a secure foundation for omnichannel banking.
Without powerful API integration and management, banks won't be able to implement these security techniques in a way that doesn't disrupt the customer experience. If you leverage the right open APIs and partnerships, you can lay the groundwork for a secure omnichannel banking experience.
TD Bank, for example, recently partnered with Transmit Security to implement a personalized and persistent authentication experience across its channels. The goal shouldn't be to find the one perfect API, but to leverage and manage as many APIs as necessary to balance security with seamless omnichannel experiences.
It's no secret that omnichannel is a challenge for traditional banking brands. You have multiple channels in place, but it's time to unify them and meet consumer demands.
If you want to learn more about how financial institutions are benefitting from open API software,
that discusses how a global bank used OpenLegacy to launch a Global API - the foundation for customer experience innovation - within days.