Business is transforming. Once business was conducted at specific places. Now it can be conducted anywhere through a variety of channels including cloud, mobile, and Internet of Things (IoT). And that possibility generates needs.
Getting a business's key data and processes to and from all of these places offers a strategic ability to fill those needs. API is a strategic tool that delivers that ability.
Enterprise IT is Under Pressure to Keep Up
Enterprise IT teams are under pressure to adopt new technologies and harness them to innovate. This innovation involves connecting the different silos within the organization and with partners outside, so they can collaborate and leverage their combined abilities to succeed in this accelerating marketplace. That is, quickly delivering the data and functionality required to the appropriate stakeholders, wherever they are.
Businesses thrive by unlocking the value in the organization and making it accessible to partners, clients, and other stakeholders. When the data and processes are locked in an enterprise application, the benefits may be locked as well. But when you allow partners, clients, and other stakeholders to harness your value, the benefits can multiply. That value can be translated into improved customer experiences and increased monetization. Companies in a wide range of industries have successfully integrated their legacy data and business process with mobile, cloud and web simply, securely, and effectively. Here are some recent business we recently helped transform.
API Technology is a Key to Opening Businesses to the New Market
API technology is a key factor in making this possible. It offers a secure way to expose specific data and processes. For example, using APIs, Amazon opened up its website to vendors all over the world to sell their goods. Now a large proportion of the items sold by Amazon are actually third-party vendors.
Diagram. How the OpenLegacy Solution Works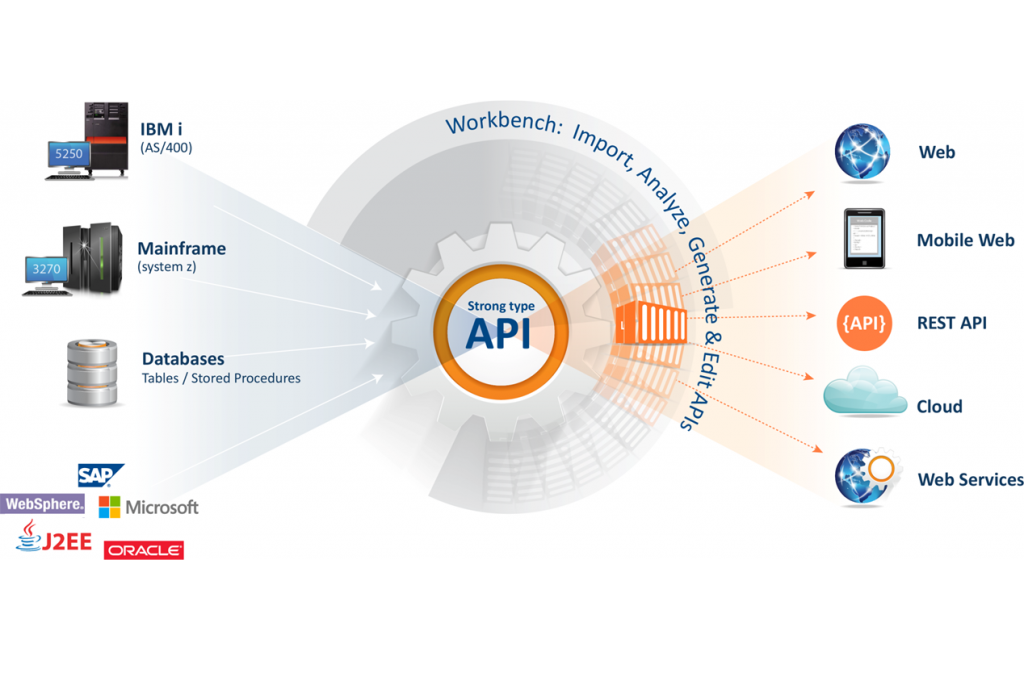 In deciding to integrate API into your portfolio of technology, consider the following recommendations:
1. Keep the user in mind . Taking a modular approach, pick a user story that is important and critical to your users. Identify the processes involved. Expose the data and processes for that user story. One way to do that is using OpenLegacy's standard tools, which rapidly extract the services and data from within enterprise systems into an editable format that puts the power of integration into the enterprises' hands. Once a business process is exposed – which can be done in minutes – the output can automatically be transformed into stand-alone mobile, web, and cloud applications; and connected with other solutions. Most importantly, no changes are required to the on premise system in order for OpenLegacy to work – the process is risk-free.
2.Make it easy to share. Who in your community may be using the data and functionality you expose? How might they use it? Consider sharing the APIs in a shared resource within your organization and with qualified partners. Within the larger community, vendors like OpenLegacy regularly host community events, including webinars and an open forum to exchange and share lessons learned.
3. Follow open standards. One of the main principles that led to Amazon's success was Jeff Bezos' insistence that "All service interfaces, must be externalizable. The team must plan and design to be able to expose the interface to developers in the outside world." When OpenLegacy's tools extract services and data from within enterprise systems into an editable format, they create a standard JavaScript Object Notation (JSON) and Representational State Transfer (REST) APIs.
OpenLegacy Generates Standard APIs Quickly and Securely
For organizations who are ready to transform into fast-paced, customer-centered businesses, having mission-critical data and processes available when and where needed is critical. APIs offer a strategic technology because they are not sensitive to where those data or processes come from – they focus on the interface. OpenLegacy offers an automated and open-standard tool which requires no change to your backend systems for exposing the required data and processes securely, in standard JSON and REST protocol APIs.
Join our upcoming webinar with CM First to gain further insight on which challenges you must take into account early in the process when considering APIs.