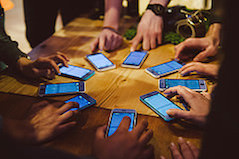 No two development projects are the same; every enterprise will have different goals and success metrics for creating mobile apps tied to their AS/400 systems. Regardless of scope, there are things every enterprise should seek to avoid during these projects.
In this post, we offer a high-level look at some of the common mistakes to avoid when looking to develop mobile apps with AS/400 applications.
Being Limited by Existing Workflows

Typically, mainframe screen progressions were designed for specific workflows. As companies evolve, these workflows may no longer be relevant. Mobile apps provide an opportunity to revamp how users access/enter information to better match current needs, streamline activities, enhance productivity and provide more data in a single view.
Failing to Customize for Specific User Groups

For companies with diverse customer types or job functions, a "one-size-fits-all" approach to application development might not always work. In these situations, consider creating solutions tailored for specific departments, customers, or partners, which will lead to higher adoption rates and ROI.
Keeping an "Old School" Look and Feel

People often assume that with a legacy system, an application cannot have a modern look and feel. In reality, that's not the case. Incorporating widgets and plug-ins for adding calendar events or liking something on Facebook doesn't become more difficult just because the app's data resides on a mainframe. Use style sheets and graphic elements to add sophistication and simplify the user experience.
Missing an Opportunity to Enrich

For companies with siloed or sprawling IT infrastructures, mobility projects are a great way to unify data from multiple sources in a single solution. For instance, companies can create solutions that bring together product, logistics and billing information to streamline workflows or connect marketing, quoting and sales data to gain a 360 degree view of customer activity. Not only does this approach allow you to quickly create extremely robust, value-added solutions, but it is also far less expensive than migrating all your information to a centralized datacenter.
Failing to Ensure Responsiveness

App delays can kill both adoption rates and productivity gains. Therefore, it is extremely important that developers continuously test page load, query response and other performance related KPIs to correct these issues early in the development process. From a design perspective, avoid using complex middleware schemes that tend to delay backend responsiveness – use APIs for direct communication, instead. In AS/400 projects, connection pooling will further increase transactional speeds and help you provide a great experience, every time.
Continuing to Develop on the AS/400

Understanding that mobile apps live outside of the back end environment – yet, still communicate with it – is critical for success. These apps should be written in Java and use open-source programming techniques to make them highly portable for next-gen infrastructures and cloud-based environments. The approach ends vendor lock-in and ensures that as your business evolves, so will your legacy data.
What other mistakes should an enterprise avoid? Let us know how your mobility projects have gone – and any tips you may have picked up along the way – in the comments section below.