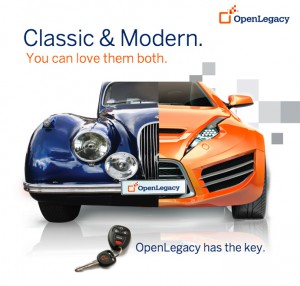 Design, power and durability. These are the qualities that most people – including the younger generations – tend to associate with the classic American muscle car. This is also how a true IT aficionado feels about a mainframe and IBM System i. Both classic cars and legacy systems have been used, maintained and depended on all these years.
Despite all of the new innovations, there's something alluring about the classics. Perhaps this is why the Mustang, Charger, Corvette and other classics are still in production. And perhaps this is why so many organizations want to modernize their backend legacy systems - the equivalent of adding seat belts, cup holders, and power windows to the reliable classic car.
The power built into these classics is hard to match (running a typical 23,000 user DB2 on z/OS database workload to SQL Server would require 128 database cores on four HP servers). And then there's the reliability factor – one proven by the fact that there are still so many on the road today:
96 of the world's top 100 banks, 23 of the 25 top US retailers, and 9 out of 10 of the world's largest insurance companies run System z
Seventy-one percent of global Fortune 500 companies are System z clients
Nine out of the top 10 global life and health insurance providers process their high-volume transactions on a System z mainframe
Mainframes process roughly 30 billion business transactions per day, including most major credit card transactions and stock trades, money transfers, manufacturing processes, and ERP systems.
And today, there is a new "super key" for starting-up and driving innovation in the backend legacy systems that everyone knows and loves in mobile and cloud environments – and it's readily available from OpenLegacy.
Using open source code the OpenLegacy API Driven Platform eliminates the middleware and integration roadblocks that typically clutter the path to modernization. Instead, the OpenLegacy API platform offers an auto-discovery tool for quickly mapping APIs to specific green screens and data fields that Java programmers can leverage to quickly build new apps that extend legacy systems capabilities to mobile devices and cloud-based environments. To speed time-to-deployment, the platform offers a feature-full Eclipse based IDE as well as shortcuts for creating a cutting edge UI complete with next-gen features, device specific functions, widgets and third-party plug-ins. Whether it is quickly extending business applications from a terminal to a tablet, transitioning ordering systems to global marketplaces or reducing the complexity and cost of integrating CRM/ERP systems to vendor portals; OpenLegacy offers a "super key" to tune your classic.
Now, turning a classic into a "hybrid" has never been easier. Companies no longer have to wait around to see if new technologies can deliver the power, reliability and functionality that their current systems already offer. Sure, every IT professional wants to make their applications available via the mobile devices that their customers and employees prefer – but does that mean they have to spend all their time and money struggling with complex SOA, middleware, and governance issues? Wouldn't their effort be better spent creating solutions that delight users?
Today, disposing of a legacy should be considered just as unfathomable as junking a classic car. Instead, let us show you how to easily unlock a whole new set of "options" for your classic.
Meet us at Wisconsin Midrange Computer Professional Associations's Spring Technical Conference event to get the key to open your legacy systems.