Many businesses shudder when the subject comes up regarding how to bring their IBM i AS/400 Legacy systems out of the days of green screen character-based functionality. Typically the choices are replacing the existing Legacy systems with a totally new or upgraded system, or beginning the arduous task of re-rewriting internally-developed systems that have evolved over a period of years or even decades. Neither of these options is attractive for many reasons including:
The years of knowledge contained inside the system
Requirements definition and vendor selection
Software selection and purchase cost
User licensing expenses
Resource-intensive effort that consumes the time of critical IT resources and business users
Training and software development, testing, and end-user approvals
However, the need to move forward with modernizing Legacy systems is becoming more important to business – regardless of size due to the changing demands of business users, partners, and customers. The arrival of the Internet of Things (IoT) requires companies to focus on agility, efficiency, and responsiveness to customer demands. Technology is available that permits businesses with considerable investments in Legacy IBM i (AS/400) applications to modernize quickly and easily, and with low risk.
Companies have many incentives to move forward with modernization now:
Customer retention and attracting new customers
Improved customer service through the use of mobile applications
Accessibility to applications anytime – anywhere
Services are available today to implement modernization through projects small in scope and cost that are easily implemented

Send your screens to the service
Advanced technology is utilized to convert screens to API-based mobile functions
Receive the applications from your service and deploy them
Gartner research estimates that by the year 2020 there will be in excess of 26 billion devices connected to the Internet with a wide array of devices including computers, laptops, tablets, and smartphones. These are the devices consumers and business customers are using to connect with enterprises today and in the future.
New Technology and Services Allow You to Respond to the Needs of Customers
Businesses that modernize to accommodate partner and customer needs are those that will retain customers and grow the business. Modernization projects have a reputation for being expensive failures. That doesn't have to be the case because current technology is available that allows businesses to modernize IBM i 5250 screens and turn them into efficient mobile applications.
Companies that utilize these new technologies and modernization services benefit when they follow the new rules of modernization:
Modernize only the 5250 screens and applications that make business sense – expand as needs warrant it
Reducing the need for or eliminate developer training in new software languages or techniques
Provide real-time mobile applications for business users and customers
Reduce risk by using existing software with a web-enabled access
Utilization of experts experienced in delivering an API-driven application interface
Maintain control by retaining existing investment in Legacy applications and infrastructure
Leveraging mobile technology for access to enterprise functionality
Minimizing scope – start small and modernize only applications and 5250 screens that will benefit from adapting to mobile access
A New Approach For Getting Connected With You Customer
In interviewing numerous IBM customers, the message that resonated repeatedly was that modernization projects are too expensive and take too long. These customers want low cost, low risk, high value modernization projects. That is why OpenLegacy has developed new API-based technologies and done-for-you services that deliver those solutions.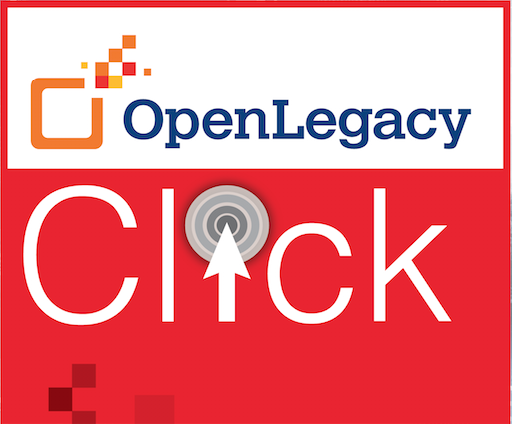 A recently launched service, Click, provides business with an easy way to get a small project done or to prove out the concept for a larger project. Click is a totally different approach to connecting your legacy IBM I AS/400 applications to your customers and partners.
Click projects can be done on a narrow scope with low cost and in a short timeframe since the work of modernizing your business process (a set of screens) is done for you by OpenLegacy. OpenLegacy experts are well-versed in the IBM i AS/400 environment and can turn your application screens into mobile functions in days instead weeks, months, or even years sometimes required to implement new systems.
OpenLegacy Click utilizes the OpenLegacy platform, an award-winning, industry-standards API based technology to generate the front-end app and the APIs needed to provide access to AS/400 functions from their mobile devices wherever they are and whenever they're needed.
With a subscription-based pricing format, Click customers realize a significant return on their investment without significant cost or expensive replacement projects.
See for yourself what can be done in a few days time. Click here to have OpenLegacy turn your 5250 screens into powerful web-enabled mobile applications.