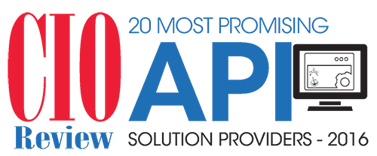 OpenLegacy has earned a spot on the CIOReview's prestigious list of 20 Most Promising API Solution Providers 2016. A distinguished panel comprising of CEO's, CIO's, IT-VP's including CIOReview editorial board finalized the "20 Most Promising API Solution Providers 2016" and shortlisted the best vendors and consultants.
OpenLegacy's Enterprise API Integration Platform dramatically simplifies the digital transformation process by generating APIs in minutes rather than months, eliminates the need for a complex technology stack, and ensures successful completion with its unlimited flexibility.
"We take pride in honoring Open Legacy as one among the 20 companies that are featured in the API special edition of 2016,"said Jeevan George, Managing Editor of CIOReview. "OpenLegacy is an Enterprise Integration API Platform dedicated to delivering Core Applications as Digital Services."
CIO Review interviewed Romi Stein, CEO and Co-Founder of OpenLegacy and published an in-depth article on OpenLegacy's solution.