Every organization needs to modernize, but it's challenging to justify an investment without understanding the benefits. Most important is the ROI – the bottom line criteria for any IT project; did the cost of development exceed the value to the business or vice versa?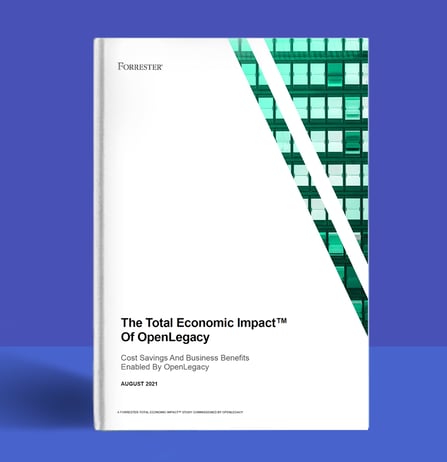 Unfortunately, calculating ROI is time-consuming and complex with every possible metric for success having to be examined and calculated. So to understand the quantitative benefits of Hub, OpenLegacy commissioned a Total Economic Impact™ study conducted by Forrester Consulting. The study determined the OpenLegacy's Digital Driven Integration platform delivers a 353% return on investment to enterprise customers.
Prior to using OpenLegacy, the Global 2000 bank in review built integration layers through microservices and home-based ESB architecture. The bank realized more agility and flexibility was needed in its mainframe integrations and protocols. To build an automated end-to-end flow and experience faster API production and connectivity to the mainframe, they chose OpenLegacy.
Specifically, the study broke down the benefits of Hub into four categories:
Significant improvement in productivity
IT teams can focus on developing new applications, features, and updates while spending a fraction of the time on integration. By standardizing and automating the DevSecOps pipeline, FTE efforts were cut in half.
Acceleration in time-to-market
OpenLegacy's solution generates APIs in minutes, rapidly integrating assets and deploying them as standard microservices or serverless functions. With home-based ESB architecture, it took nearly 35 hours to develop one API; with Hub, average API development time shortened to 5 hours.
Lower costs of digital innovation
Hub automates API development and standardizes processes, streamlining digital innovation and maintenance. Overall, the bank in review saw a 67% reduction in legacy integration costs reinvested in new product initiatives.
Reduction in processing speed requirements
OpenLegacy connects directly to even the most complex legacy systems, bypassing the need for expensive ESBs and other layers of technology. By simplifying legacy integration, MIPS expenses were reduced by 50%.
The bottom line
The Forrester TEI study highlights the benefits of the cloud, particularly – but not limited to – within the banking industry. However, the lack of widespread cloud adoption makes it difficult for banks to secure the speed and agility that come with it. According to IBM, "while 91% of financial institutions actively use cloud services today, only 9% of mission-critical regulated banking workloads shifted to a public cloud environment."
In comparison, 60% of all workloads run on the cloud, leaving behind banking, insurance, and other data-heavy industries providing mission-critical infrastructure (451 Research). These markets face tremendous obstacles on the path to modernization. OpenLegacy can empower these enterprises with the biggest reach to not only survive, but to deliver digital innovations as they had decades before.
Download OpenLegacy's full Forrester Total Economic Impact™ (TEI) study here.