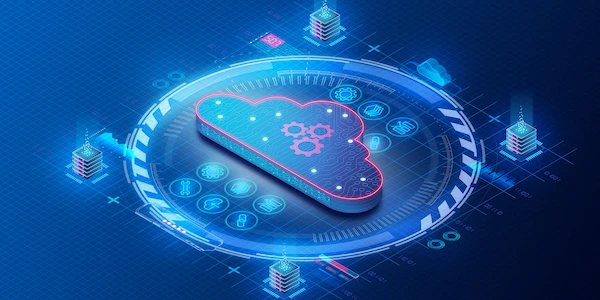 Successful companies are increasingly turning to cloud integrations and SaaS for their business processes. Subscription-based cloud services give flexibility along with functionality—and allow businesses unprecedented choice.
Among popular cloud-based integration solutions, iPaaS stands out. But what is it? iPaas is short for integration platform as a service. It's a cloud-based solution that allows you to connect business apps and share data across an integrated network. A hybrid integration platform like OpenLegacy also lets you connect cloud-based apps to on-premise systems.
A good iPaaS vendor can give you unprecedented data connectivity in a simple, easily customized way. This can speed up your connectivity, improve your workflows, and break down data silos into a smooth, free-flowing exchange of information.
Intrigued? Let us tell you how it works.
An iPaaS definition
So, what is iPaaS, and what does it stand for? Let's take a look:
Integration
An iPaaS service takes data from where it's collected or stored (e.g. apps, databases, CRMs like Salesforce, social media logs, and so on) and integrates it into a centralized platform. This means all the data you need is at your fingertips. Because none of it gets lost in obscure apps, you don't have to waste time rifling through various databases to find what you're looking for.
Platform
A good iPaaS solution will provide an intuitive ecosystem that allows you to find, analyze, integrate, and draw insights from data across your operation. Importantly, it is not a data store: the systems it connects to retain the data.
As a service
iPaaS vendors work on a subscription basis. You don't need to install your own on-premise platform. Instead, it's based in the cloud and run by a vendor. This means you can access it anywhere and at any time. It also means you can choose the subscription terms that suit you, and the vendor takes care of things like software architecture and updates.
The benefits of using iPaaS solutions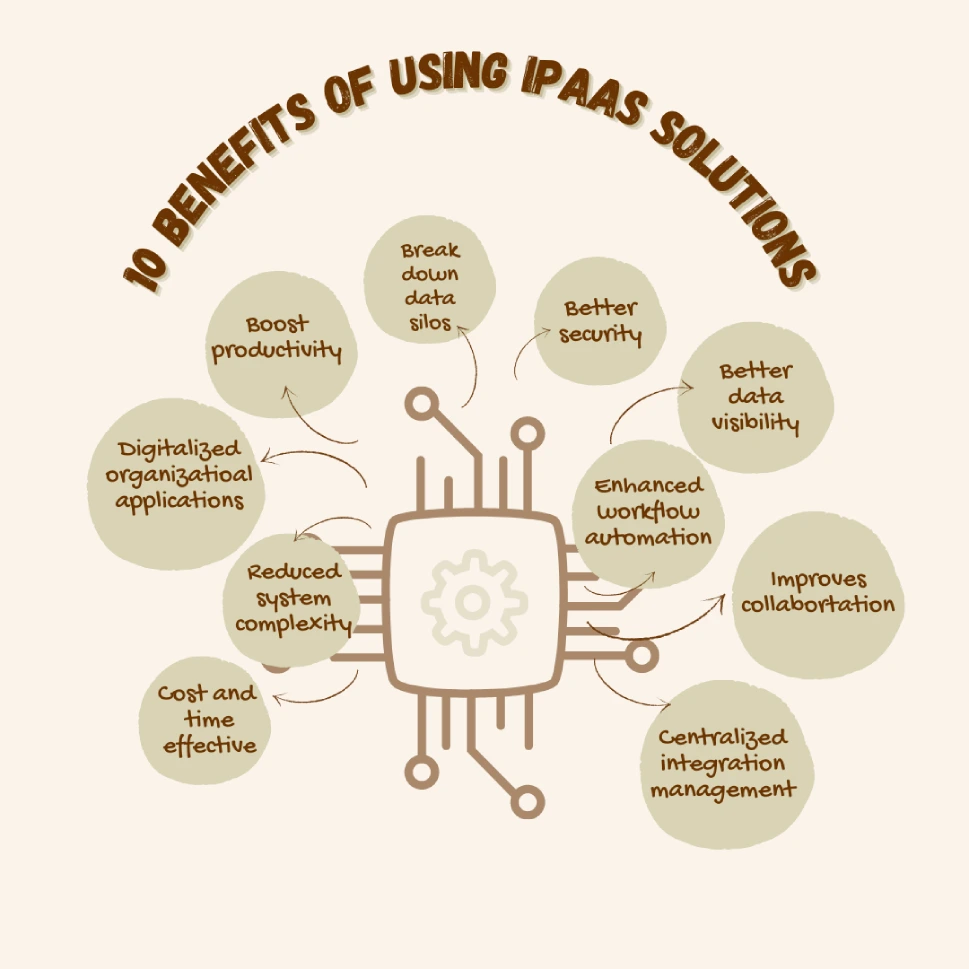 Cost and time effective
In this day and age, data of all kinds constantly pour into the various apps, platforms, and systems you use in real-time. From customer service interactions to social media analytics to sales figures and more, every part of your business is a non-stop data hive. With a non-integrated data system, the process of collating it is very time-consuming.
To get the best insights about your customers, sales, etc., you must compare data from across the entire spectrum of your data-gathering activity. But, without an integrated approach, hauling in all the relevant figures takes a long time. What's more, you may find important data gets overlooked.
With an iPaaS solution, all your apps, systems, databases, and platforms will talk to each other via APIs. This not only helps you solve legacy integration problems but means you don't need to waste valuable time and resources hunting down data sources. It's all there, in one place, just waiting for you to draw insights from.
This doesn't only save time; it saves money that would otherwise have been spent on paying employees to carry out this work for you.
Reduced system complexity
iPaaS is a low-code to no-code cloud computing solution. It has pre-built connectors, pre-built templates, a ready-made architecture, and more. This makes onboarding easy. You don't have to bring in specialized skills. You simply make an account and configure the integration requirements to integrate your data.
Once you've set up your iPaaS account and configured it to your liking, you'll find it makes the rest of your tech stack easier to use as well, providing an effective integration management system that can bring digital transformation to even the most clunky legacy systems (assuming the software vendor provides connectors to access the data in these).
Digitalized organizational applications
Digital application integration solutions like iPaaS can work wonders for your tech stack. They connect your organizational applications with the data needed to run efficiently. They also allow you to create new business flows and operations easily. This brings a ton of benefits across the board.
Boost productivity
With an iPaaS like OpenLegacy Hub, you don't have to waste time switching between tools, floundering about with inadequate middleware, or trying to draw insights from fragmented data sources. Instead, everything is quickly available exactly where you need it, and from the most complex applications in the organization- legacy systems.
This means that, rather than wasting time digging out data, you can get straight to what's important: drawing insights and putting them to work.
Breakdown data silos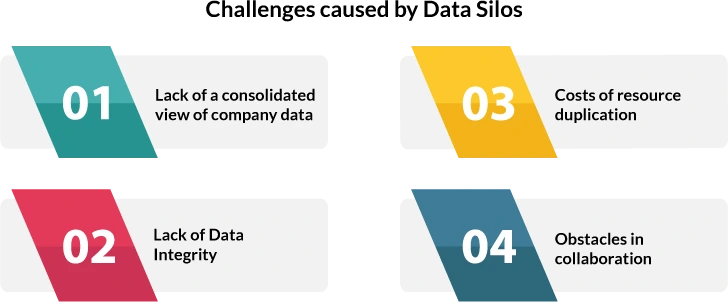 We've mentioned data silos a couple of times during this article. But what are they? Essentially, a data silo is a distinct and hard-to-access data warehouse.
For example, your marketing department may have a lot of data on customer interactions, and your sales department may have a lot on sales preferences. To get a full and useful picture of customer character, preferences, sales habits, etc., these two sources would ideally be combined.
All too often, however, departments silo their data. This means they either don't share it with each other or that other departments find it hard to access and integrate data from different sources.
iPaaS solutions are multi-tenant, meaning integrated data is available to all relevant parties, no matter the source. This breaks down data silos and allows for a free, insightful, and productive exchange of information across the business.
Better security
The beauty of SaaS applications is that the vendor handles all the details, including security. While it's wise to have your own network security protocols to cover your back, you don't have to worry about the integrity of your iPaaS platform itself.
iPaaS and other SaaS platforms have a service-oriented architecture, meaning the user doesn't have to concern themselves with structural things like updates, security, API management, etc.
Instead, you can get straight to work and leave the architectural and security concerns to your iPaaS provider.
Accurate data & better data visibility
Cloud applications can process data any time and anywhere. This means you're always working with up-to-date data that flows in real time.
Here are some quick use cases:
A customer calls your service team and has to repeat their issue and information multiple times because each new department needs the data afresh. This is frustrating for them.

However, with an enterprise integration channeling data through an iPaaS, the information is immediately available and visible to every department that needs it—whenever they require it. The customer's problem is solved much more quickly, and they leave pleased with your efficient customer service.
Your marketing team sends a discount code to a customer for a product they've just bought at full price. This is frustrating and maybe even upsetting for the customer. It also wouldn't happen with a hybrid integration iPaaS, as its integration processes would give the marketing team accurate sales data, ensuring they don't make any blunders.
Improves collaboration
Good communication is the key to strong collaboration. Communication is all about sharing information. "Data," when you get right down to it, is just another word for this.
So, because an iPaaS gives you all the integration tools you need to effortlessly share data, it naturally improves your communication, which in turn makes your collaboration more effective.
Enhanced workflow automation
Good integration flows also help out your automations. Automations run off of data, so the better your integration, the smoother and more effective automation workflows will be.
Centralized integration management
iPaaS SOA (service-oriented architecture) allows you to configure your platform according to your integration needs. Having done this, you can then easily manage integrations from one interface. You don't need to understand complex coding or development language, as the SOA handles all the dev stuff for you. You simply log into the platform and get to work.
The five best iPaaS tools
If you're now considering an iPaaS solution, but you're not sure where to start, here are our top five iPaaS companies of 2022.
1. OpenLegacy

OpenLegacy allows users to manage complex data systems in a flexible and intuitive way. We're noted for our scalability and self-service capabilities, which enable customers to set the terms and grow fast.
OpenLegacy provides a lot of freedom. Users can deploy APIs on any open architecture. We also have strong connectors, which give great results on a range of on-prem, core, and legacy systems.
Customers can intervene with the API code at all levels. This allows them to extend the usage of the platform and introduce additional features that aren't included as standard.
All in all, we're an effective, flexible, and efficient platform that gives great results in an easy-to-use and intuitive manner.
2. Boomi

Boomi has been in the "leader" quadrant of the Gartner Magic Quadrant for eight consecutive years now. It's particularly known for its speed and seamless connectivity.
Boomi has a low-code drag-and-drop interface that requires little training to get to grips with. It's capable of a complex range of use cases but is very easy to navigate. Pricing is reasonable, but the cost does shoot up as businesses require more functionality.
Boomi partners with OpenLegacy to serve an end-to-end enterprise robust iPaaS solution that includes connectivity to the most hard to reach and complex on-prem, core, and legacy systems.
3. Workato

Along with industry-leading names such as Microsoft and Oracle, Workato also holds a spot as a "leader" in the Gartner Magic Quadrant. It offers a range of subscription models, which make it suitable for small and large enterprises alike.
Its library of "recipes" (i.e. pre-made automation workflows) is extensive and can save users a lot of time. However, you can still make bespoke workflows with ease.
On the face of it, Workato looks like a simple (if robust) platform, but that simplicity is deceptive. Users with some coding ability will find it highly customizable.
Workato partners with OpenLegacy to serve an end-to-end enterprise robust iPaaS solution that includes connectivity to the most hard to reach and complex on-prem, core, and legacy systems.
4. SAP Integration Suite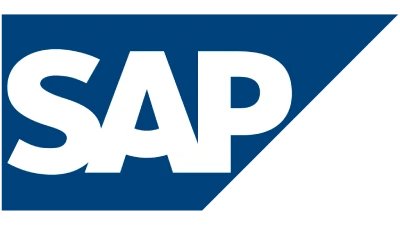 SAP consistently features in the "leader" quadrant of the Gartner Magic Quadrant for data integration tools. A popular feature is its library of pre-built, SAP-managed integrations, which can save a lot of time during onboarding.
SAP has an excellent customer service team, using a combination of human experts and conversational AI to quickly get customers the answers they need. A major selling point is that you can get an SAP integration for other iPaaS service providers, allowing for a flexible range of functionality.
5. MuleSoft

This is another Gartner Magic Quadrant leader. MuleSoft's distinguishing feature is its CloudHub capability. This makes it a resilient platform with global capabilities.
MuleSoft is strongly associated with Salesforce, but you can get MuleSoft Anypoint on an independent basis too.
Many MuleSoft clients complete the solution by adding OpenLegacy to get an end-to-end enterprise robust iPaaS solution that includes connectivity to the most hard to reach and complex on-prem, core, and legacy systems.
Maximizing iPaaS software: best practices
Good iPaaS platforms will do a lot for you, but it's still best not to go in blind. Here's how to get the very best out of your integration platform as a service.
Understand your objectives
To pick the right iPaaS (and set it up properly), you need a clear idea of what you'll be doing with it. So, think about your objectives:
What problems would the ideal iPaaS solve for you?
What would you use your enhanced data connectivity for?
How would the ideal iPaaS help you grow your business?
For example, if your objective is to improve automation workflows, the right iPaaS can help you with that, but you might need to pick (or configure) different functionalities than if your objective were to draw deeper and more accurate customer insights.
Your objective will help you decide whether to look at popular, high-powered iPaaS examples like OpenLegacy + Boomi or something more niche.
Determine its data capabilities
You don't want to sign up for a brand new iPaaS and then find it can't cope with the volume, type, and complexity of data you wish to integrate. At the other end of the scale, you don't want to find you're paying for more than you need.
Figure out what volume and types of data you'll require the platform to handle so you can make an informed decision about the iPaaS vendor or tier you pick.
Identify the data movement
There are various ways to move data, including extract, transformation, load (ETL); extract, load, transform (ELT); data replication (DR); and change data capture (CDC).
All of these ultimately move data from one place to another, but the methods differ. For example, DR makes a copy of the data and puts it in the new location, whereas ETL removes the data from the original location and uploads it to the new one.
The difference may seem small, but it can be significant. If data storage is an issue, using a DR method for data movement can result in a lot of duplicate data clogging up your system. However, if you prefer multiple copies for security backup purposes, ETL probably isn't for you.
Make sure it's always updated
Many iPaaS providers allow you to build integrations and scale that way, but the beauty of a cloud service is that the vendor regularly updates it to keep things running smoothly. You'll extend the life cycle of your platform by keeping it updated, so be sure to run scans frequently.
Know the setup and its capabilities
To get the best out of your new integration PaaS, it's important to know what you're working with. Do your research. Learn about the setup you're using. Understand what you want from it and what it can give you.
Remember earlier, when we told you to understand your objectives? This is relevant here. If you have well-defined objectives, you'll be better equipped to choose the right platform. But even once you've made your choice, it's important to establish how it can help you meet these.
Don't be afraid to play around or ask questions. Good vendors will be happy to help you get the most from their system.
Getting started with the integration platform as a service
Using an integration platform as a service is a brilliant move for businesses. An iPaaS can collate and streamline data, improve communication between apps, platforms, and teams, help you gain crucial joined-up data insights, boost productivity, save money, improve cross-business communication, and more.
Picking the right iPaaS comes down to knowing what you need and understanding the systems you're considering. Think hard about what you aim to achieve with your iPaaS, and don't be afraid to experiment and ask questions to get what you require.