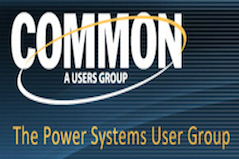 It's been described as the world's largest professional association of IBM technology users. We're talking of course about COMMON, and in a few days, the OpenLegacy team will be attending their annual meeting and expo event in Anaheim, California along with thousands of other IBM i, AIX and Linux enthusiasts.
If you're going, you can find us at booth #601. Stop by for one of our demos and a chance to win a $100 Visa gift card. Hope to see you there!
In the meantime, we wanted to preview a few sessions that we're excited to attend (and host). As you'll soon see, there are more than a few sessions that relate directly to some of our recent blog posts and whitepapers.
Here are the top 6 sessions you need to attend at COMMON 2015:
Monday, April 27, 2015: 2:00 PM-3:15 PM. Our very own CTO Roi Mor will be hosting a workshop to showcase our product's full range of capabilities. You'll learn how it can extract services and information from your IBM Power Systems and create functional, testable, responsive mobile and web applications or REST APIs…all in a matter of minutes. Geared for people who are new to OpenLegacy's features and functionalities, this session will serve as an essential primer for anyone looking to modernize applications with a DIY mentality.
Saturday, April 25, 2015: 8:00 AM-4:00 PM. To many in the industry, the term "modernization" carries with it a whole host of negative connotations. Expensive. Time-consuming. Complicated. Readers of this blog know otherwise. So does Birgitta Hauser. In this presentation, Birgitta will explain, step-by-step, how to transform an old database by switching from DDS to SQL. If you're looking to learn more about modernizing a database without destroying the current applications, this is a session you probably won't want to miss.
Saturday, April 25, 2015: 8:00 AM-4:00 PM. Here's a session that truly lives up to its promise: Those who attend will actually build a PHP database inquiry application from scratch! Host John Valance will walk participants through a step-by-step process; from starting with basic database retrieval using PHP and SQL, to formatting the data in an HTML table, and adding search filters and CSS styling. If you're new to PHP (and many developers are) then this session will be worth your while.
Wednesday, April 29, 2015: 2:00 PM-3:15 PM. Ah yes, the users! With all the perceived complexity involved with legacy applications, it's easy to forget that user productivity is really the main goal. Lee Paul hasn't forgotten, and in this session, he'll be covering a few specific ways to ensure that the user experience never gets neglected again. Focusing on defining and designing user experiences for Windows, web and mobile, Lee will not only show how to create a better experience – he'll show you how to measure it as well.
Wednesday, April 29, 2015: 5:00 PM-6:15 PM. Hats off to host Steve Will for the stellar title on this one. As the Chief Architect for IBM i, Steve will answer questions around how strategy is built; how it is defined and successful strategies across different categories. If you're looking for insights on IBM i, there is no worth listening to more than him. We cannot wait for this one.
Monday, April 27, 2015: 8:00 AM-9:15 AM. For those new to IBM i security (or those looking for a refresher) this session by Carol Woodbury should not disappoint. With topics ranging from security-relevant system values, user profile settings and object authorities – as well as the new security system values and user profile features of V6R1 and V7R1 – this session will offer value to users of all levels of experience.
What are you looking forward to at this year's COMMON event? Be sure to let us know in the comment section.