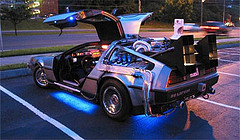 We're back! OpenLegacy went to the 2015 COMMON Annual Meeting and Exposition last week in Anaheim and we're still recovering from seeing the "Back to the Future" DeLorean time machine in person.
The DeLorean, and our own mix of classic and new cars in our trade show booth, are good metaphors for the renewal that legacy systems can accomplish. And the setting – the 1963 resort where Disneyland first started – gave a nostalgic feel and helped remind us that the more things change, the more they stay the same.
In other words, even as new flashy technologies dominate the news, IT professionals and enterprises are still looking for RAS (Reliability, Availability and Serviceability) from their IT infrastructures. Many of the companies at the event were looking to extend their mid/mainframe investments into new market opportunities. There is some FUD (Fear, Uncertainty and Doubt) when considering changing RAS legacy systems in favor of the new, fashionable and cool solution, and we've seen that companies may want to grow and change, but they understand that doesn't necessarily mean a complete overhaul of their infrastructure.
IT leaders "won't get fooled" into renouncing their RAS legacy systems. Despite the FUD being injected by some new, flashy vendors, enterprises are cautious about unnecessarily replacing their backend systems. And with good reason, the risks associated with moving fully functional, business critical processes are quite substantial.
"Take a bow for the new revolution."
With everyone looking for new, innovative ways to become flashy and cool (i.e. run critical workloads in mobile environments) without reinventing the wheel, many companies were open to hear about open source legacy modernization. This approach allows enterprises to run existing business workloads in mobile environments without losing the RAS of their legacy infrastructure.
When Doc Brown went to a future of flying cars and biodegradable fuel he didn't abandon the time travelling DeLorean. Instead he integrated the new modern technology with his existing system to create a flying time machine – a modern enhancement for a proven solution.
Automated legacy modernization and enterprise application integration allows enterprises to quickly extend their legacy systems to mobile, web and cloud applications to solve their evolving business needs without gutting existing, operational mainframes.
"Smile and grin at the change all around."
The COMMON 2015 Annual Meeting and Exposition was one of the most interesting and well-attended events we've had a chance to be at this year. Being able to come together with like-minded individuals in the IT space resulted in plenty of meaningful conversations.
I'd like to note that the educational sessions provided a tremendous opportunity for us to see the change and innovation affecting our industry. Small and large companies looking to extend their legacy investments found plenty to learn about and discuss over the five day period. Our booth on the exposition floor was visited by some interesting and inventive attendees – we look forward to staying connected with you all!
Did you attend the COMMON 2015 Annual Meeting and Exposition in Anaheim? If we missed you at the event we'd love to hear your opinions and experiences from the expo. If you missed this year, we hope to see you there for the COMMON Fall Conference and Expo!