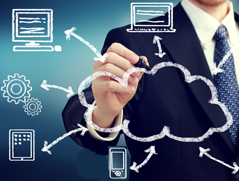 Legacy systems offer high stability and high quality data. But you need them to go farther: for example, work with other applications running on other platforms ranging from the cloud, to the web and on mobile devices. Many vendors offer alternative tools and approaches to retain and extend the value of your legacy systems. With so much at stake and so much risk – how do you know which solution to choose? And at what cost? Is there always a trade-off between quick low-hanging fruit and powerful solutions that meet true business requirements?
In this blog, we will look at those needs and the recommended criteria to benchmark solutions. Using this checklist will save you time and effort, while ensuring that all your needs are met. It will also consider the latest developments you can deliver to your organization.
To meet today's IT challenges, you need powerful, user friendly tools that give you control over your solutions with flexibility and agility. Make sure the solution you choose answers YES to the following questions:
Is the solution powerful and fast?
To be powerful, the tool must be able to dig deep in to the legacy systems of record and integrate them into the web, mobile and cloud networks. Beyond the screens, it must expose legacy data, programs and business processes. It should then liberate all that information for all types of modern, 'on demand' applications, quickly and efficiently:
Can the system automatically expose the screens, programs and business processes, opening them up to use 'on demand'?
Can you use the exposed screens, programs and business processes for all the different end points you require, for example mobile applications over HTML5 and native applications, web applications, REST APIs and SOAs?
Is the solution fast: Does it allow you to complete the entire process - automatically exposing the screens, programs and business logic, and transforming them into a mobile application in hours or days?
Does the system automatically test and verify the resulting applications?
Does the system provide full life cycle management tools with source control - including building, testing, packaging, and deploying?
Does the solution meet open standards to ensure a flexible and robust solution?
Today's IT environment is dynamic, rapidly changing. Finding a solution that meets today's needs is not enough. You need to ensure that it is open to the future:
Does the solution make your legacy systems accessible by other applications? Does the system give you access to the exposed metadata to edit and improve it?
Can you integrate other data sources, like other DBs, business processes, web services or APIs, easily and naturally? Does it play well with others?
Are the outputs open to different protocols, vendors, web frameworks, AJAX frameworks, ESB orchestration and themes?
Are the outputs delivered in simple, standard and transparent formats you can configure, customize and rely on?
Is the source code visible and accessible so you can improve it?
Is the solution user friendly?
Delivering tools and applications that are easy to learn and use is a fundamental requirement in today's market. Solutions should prevent user errors, speak their language, and deliver solutions that effectively meet the requirements fast:
Does the solution take advantage of advanced graphical elements: widgets (spinner, calendar, auto complete, etc.), breadcrumbs, menus, actions and windows?
Does the system automate tasks that users do not need to do manually?
Are the tools and outputs familiar, understandable, and intuitive?
Does the system prevent errors?
Can developers use their current knowledge and experience in order to use the system?
In your search, you may find some solutions that can answer yes to some of the above questions. Only OpenLegacy extends all of these fast, flexible and friendly benefits to your high stability, high quality legacy systems today. Learn more about the elements of a successful legacy modernization project in this White Paper.