March was a busy month for OpenLegacy as we made our way up to Wisconsin and Massachusetts for two regional COMMON events. In this post, we wanted to share a few notes on our experience and our impression of the events.
It was very refreshing to see the warm and welcoming reaction we got from the conference organizers, other vendors and especially the attendees. Being a community based open source legacy integration platform, it was invigorating for us to see and feel the sense of "community" that existed between all the conference participants.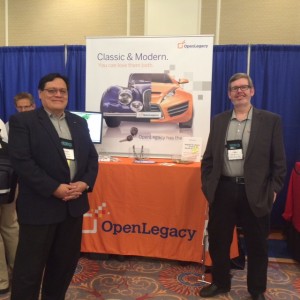 As the new kids on the block, we did get a lot of attention and questions which I would like to take the opportunity to elaborate on somewhat below:
"So, you're new…What exactly is OpenLegacy?"
This question came from both attendees and vendors alike. The attendees were excited to see new vendors joining the event that could provide value in their given environment and help them with their top priorities. Often the conversations would go into details about the "hot topics" of the day back at the office and how legacy integration might be able to move them towards completely or partially resolving those issues. Sometimes, the conversation's direction turned towards the "it's not my area but let me pass this information on" path. Surprisingly, many kept to their word. The vendors came around during the breaks, asking similar questions, looking to understand how we might be able to work together. Regardless of how the respective conversations went, they always seemed to end with "really glad you are here".
"We are a PHP shop, can you still help us?"
People always think that anyone in the "business of modernization" automatically wants you to replace everything. That's not our goal, we're about extending the value of any and all existing assets that are still delivering value. We concentrate on that "last mile" in connectivity, providing a straightforward "plumbing-only" alternative to costly middleware schemes. In fact, we routinely expose mainframe APIs to PHP developers for use in their own projects. Many attendees mentioned their need to cut unnecessary complexity so they could concentrate on fulfilling key business requirements.
"We have a small budget - but our business problems are big"
From the discussions we had with mainframe managers, it seemed as if each of you were intimately aware of what needed to be done to support your business. As is the norm these days, most of you are dealing with a "do more with less" mentality. Project backlogs, lack of development resources and reduced budgets were a constant theme. As we delved into the idea of in-house app development, many were excited about the prospects but feared a hefty price tag. For those of you considering OpenLegacy, we do offer a subscription based pricing model which makes it easy to get started. It can be downloaded for free if you want to assess its ability to meet your unique needs prior to committing your valuable resources.
"What makes OpenLegacy different from screen scraping solutions?"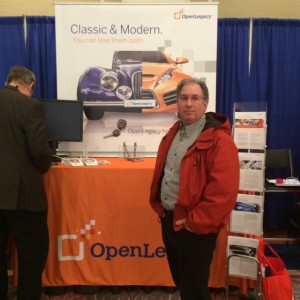 Many of the people that stopped by to hear the OpenLegacy story asked how we differed from screen scraping methodologies. This answer was easy as we hear it all the time: we offer a "lightweight" alternative for system-to-system and mainframe-to-application communications. Where screen scraping is a code-intensive solution that must be modified and custom correlated for every integration project, the OpenLegacy auto-generated APIs can be reused without change across multiple projects. When attendees realized that their integration issues could be solved once at for all, they began to understand just how many projects could be completed in a given time period.
"We don't have a lot of JAVA skills in-house ….."
We know that most mainframe groups lack a dedicated JAVA development resource. In fact, it's one of the key reasons for starting OpenLegacy in the first place. As I hope people could see from our demo, we focus on automating and abstracting as much of the manual development work as possible. Our auto-discovery tools communicate directly with the mainframe to rapidly generate a set of APIs that simplify access to specific mainframe data points. These APIs are presented within an IDE that offers a simplified interface and pre-built templates for quickly assembling an application's logic. When done, the IDE compiles a JAVA-based app allowing you to deploy it in any mobile/cloud environment without compromising back-end security or compliance protocols. Many attendees responded positively to this approach. Our goal is to empower mainframe management groups, without forcing them to learning a whole new coding technique from scratch.
I would definitely say that OpenLegacy was very happy with the discussions we had at these two conferences and our initial exposure to this great community was definitely quite interesting. The response we received from the participants confirmed our strategic commitment to the IBMi and mainframe market. We look forward to participating in these events and other conferences in the upcoming years, and we hope to see some of our new "friends" at the COMMON Annual Conference in Anaheim at the end of this month.
Looking ahead, we're excited to be represented at COMMON Nordic by our partner Scala4.